Last week, as I was getting excited about my work with FIRST LEGO League at the Innovation Lab (see last post), I spent some time scouting other local and regional robotics competitions.  I happened on a very useful list from a competitor.  It led me to investigate the Singapore Robotics Games (SRG) as a general platform for expressing our own innovative energy.  I immediately got motivated to register our team of crack enthusiasts to showcase our talents, abilities, and our drive.   Participating in and winning a robotics competition is both immensely rewarding and very valuable  from a marketing standpoint – a powerful story to tell kids, parents, teachers, administrators and partners when we try to tout our product.  As this event is organized by Singapore academia, it is more about fostering rapport between various organizations who have a stake in robotics research and its integration in academia and industry in Singapore, and so registration fees are waived by the organizers, who co-sponsor the event with the Science Centre and its government arm – the Science Centre Board, which is part of the Ministry of Education.
Shenghao (resident hacker) and I perused the competition documentation and decided to go for the Wall Climbing Robot Race, because we believed the challenge was simple enough to get at least partially right in a short amount of time.  The historical participation rates for this event were not overwhelming, which was another bonus for us.  We quickly ensnared the support of Cort, and immediately became embroiled in design discussions and strategies for winning.  Laven (resident martian expert) joined our group as well, and I registered our 4-person team officially, once we had a consensus that this was worthy of our time and effort, and that we would all be OK making complete fools of ourselves in the worst case.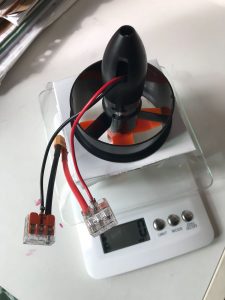 Our current design is basically a car that climbs walls and stays upright by applying some force directly towards whatever surface it is on – it takes over for or fights against gravity when the plane of motion changes with respect to it.  We are using electric ducted fans to try to achieve this. Currently we have a fairly complete design, but missing a few of the parts – namely, power switches for high-current applications, and wheels and tires.  We also need to do some design work to get around any kind of wheel slip in our car, that would disorient it off its planned course – go straight.  The variance in reflectance properties of the 3 surfaces we need to drive across seem to be complicating this to some degree.
Our budget of $500 is quickly being eaten away from paying premium prices for electronics, which we are sourcing locally, instead of through our usual, cheaper, global trade routes, simply for the expediency of time.  We have about $150 sunk in drive and thrust systems (EDFs, gear motors), another $100 or so in the power system (with some spent on reserves for the sake of rapid-ish prototyping), and say $50-100 allocated for chassis, controller, sensors and the rest of the electronics, a lot of which we already had.
We've done about 3 days of work, and I foresee about 3-5 more before we have a testable platform.  Depending on the sanity of our design choices and integration work, we may be close to done at that point, or scramble back to the drawing board, with very little time to spare before the competition.
No mountain too high for A Posteriori Wall Climbing Robot Team!