We've been asked to temporarily tweak the recreational LEGO Robotics CCA  at Temasek Primary into a hybrid of two CCA programs – one recreational and one focused on a design & innovation competition based on micro:bits.  Luckily we have two trainers in this program, so each of us can maintain focus on a different program.
For micro:bits, we created two teams – SailTrain & FilterBoat.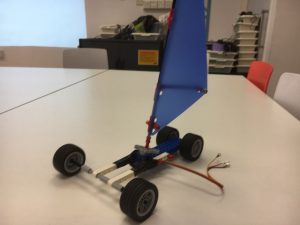 SailTrain – An all-girls team was already working on a LEGO Sail Car from an older education set (not EV3).  Using the basic design, we are adding a micro:bit driven servo motor to control the rotation of the mast and the direction of the sail.  The concept is a Renewable Energy-Powered Commuter Transport.  The sail is wind-powered, but the miro:bit/servo will be powered by Solar Panels.  If there is no wind, solar-stored power can be diverted to normal rotary actuators to drive axles/wheels directly.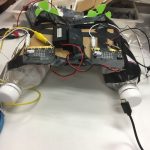 FilterBoat – P5 boys team who came up with this original idea of an autonomous boat for cleaning up the lakes and reservoirs of Singapore.   The idea is based on various manual operations currently undergoing in various water bodies – for instance, see this relatively outdated operation.
In comparison, a fleet of smaller autonomous boats based on the team's design can be deployed to operate cleaning in a 24/7 operation along the various inland water bodies of Singapore.  A unique and relatively realistic approach to automation and efficiency for a current real-world problem.
There's still a lot of work to be done to complete the projects, movies, and posters required for both teams, but the enthusiasm is now in place to get them over the finish line!
The teams in both the competitive and recreational sides of the CCA are really enthusiastic about their various projects.  After a lukewarm reception to the idea of switching to a micro:bit competitive project, all of a sudden more teams want to participate – after seeing the cool prototypes being created!