On Thursday, 1 March, we brought two teams from LEGO Education's own collaboration space – Innovation Labs at the Science Center.  The experience of coaching a group of disparate primary school children from various schools and backgrounds proved more challenging than I initially thought.  There was a lot of tension, angst, and misunderstanding as we tried to get 8 kids to gel as two teams over a short period of time, where we barely had enough sessions to get the kids ready for the competition.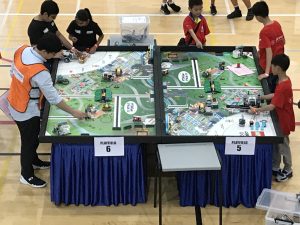 Luckily, some of the parents really stepped up to support us and the kids through the process.  The parental dimension added some of its own challenges, but overall it really helped the kids see the effort as important, relevant, and valuable.  The adults kept the kids fed, helped getting them focused and attentive, and even suggested design ideas that the kids were free to do with as they pleased.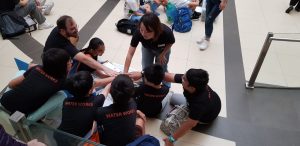 Finally, in the last week after Chinese New Year, the teams started kicking into high gear and got their acts together.  By the end of our last session, we had the kids running through a mock competition round.  Spirits were a bit low as the teams could not complete more than 3-4 missions each per round.
Still, the teams seemed to perform fairly well with their presentations, and had some success and luck in round 1, so that one team managed to make it to finals.  During finals, the team went the extra mile and managed to complete a round with 100+ points – getting closer to Secondary school averages.  The competition doesn't have separate divisions for the Secondary and Primary levels, so kudos to the kids for trying their best against Goliaths!
Awesome FLL-themed cupcakes, baked especially in honor of son for his participation in finals, by his momma, who runs Cuppacakes: