Our students from Swiss Cottage, Pei Hwa Secondary, and Zhenghua Primary participated in various sub-leagues of the 9th Robocup Singapore Open & Competition this past weekend.
When we teach, there is always a lot of pressure to get the kids on a path to excel.  We are happy to help the kids reach their true potential, as long as they're having fun.  The Robocup CoSpace Rescue challenge is built like a game, and so the platform lends itself to a fun-filled curriculum with a built-in drive to success (and win the game!).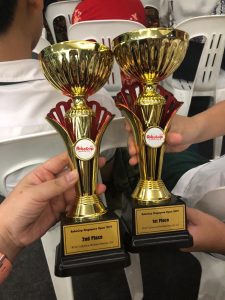 The kids showed great aptitude in this league, as they clinched first, second, and sometimes even third places (not officially allowed by competition guidelines) in the various fixtures and age groups.  We are looking to establish a more formal partnership with the Robocup league organizers to provide our original curriculum, based on the CoSpace challenge, to more schools in Singapore.  And make the 10th Singapore Open a great success next year.
One pet peeve, our secondary school teams who joined the more competitive RCJ league faced major challenges from Junior Colleges, and so the Under 19 category is going to be quite impossible to surmount – and the coveted spot to represent Singapore internationally quite out of reach…